Dentistry, in some form or another, has been practiced for at least 9,000 years, although tooth extraction and remedies for tooth aches probably go back much further.
Historical records reveal numerous dental and hygiene procedures practiced by the ancient Egyptians.
The Edwin Smith Papyrus, written in the 17th century BC but which may reflect previous manuscripts from as early as 3000 BC, includes the treatment of several dental ailments, and the Ebers Papyrus, dating to the 16 th century BC, contains eleven recipes which pertain to oral issues.
This is either used as an actual filling, or as a splint to keep the tooth in place. Scientists performing CT scans on the head of a 2,100-year-old Egyptian mummy also found evidence for cavities being filled with linen, which may have first been dipped in a medicine such as fig juice or cedar oil.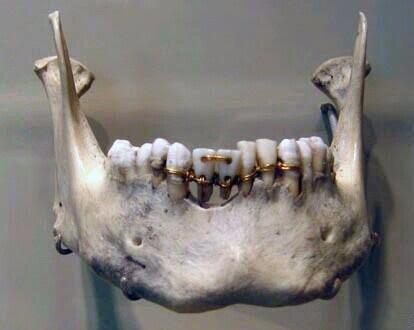 Hesi-Re is the first named "dentist" in ancient Egypt and the world. He was an official, physician and scribe who lived during the Third dynasty of Egypt, around 1600 BC, and served under the pharaoh Djoser.
He bore titles such as "Chief of Dentists and Physicians", "Doctor of the Tooth" and "Chief of the King's Scribes".
Pharaonic physicians were no strangers to reconstruction works: there have been three instances of a dental bridge: one or more lost teeth reattached by means of a gold or silver wire to the surrounding teeth.
In some cases, a bridge was made using donor teeth. However, it's a bit unclear whether these works were performed during the life of the patient or after death – to tidy them up, as it were, before their burial.
Source: shenstone-dental